Last Vietnam War vets to leave active service meet in Missoula

Try 1 month for 99&cent
Buy Now
With more than 72 years of service between them, Victor Wright, left, and Mike Jarnevic, the last two Vietnam veterans to retire, stand in front of the Veterans Memorial in Rose Park on Sunday. The two have known of each other since an article was published about Jarnevic's retirement in July 2015, but finally got the chance to meet in person for the first time over the weekend.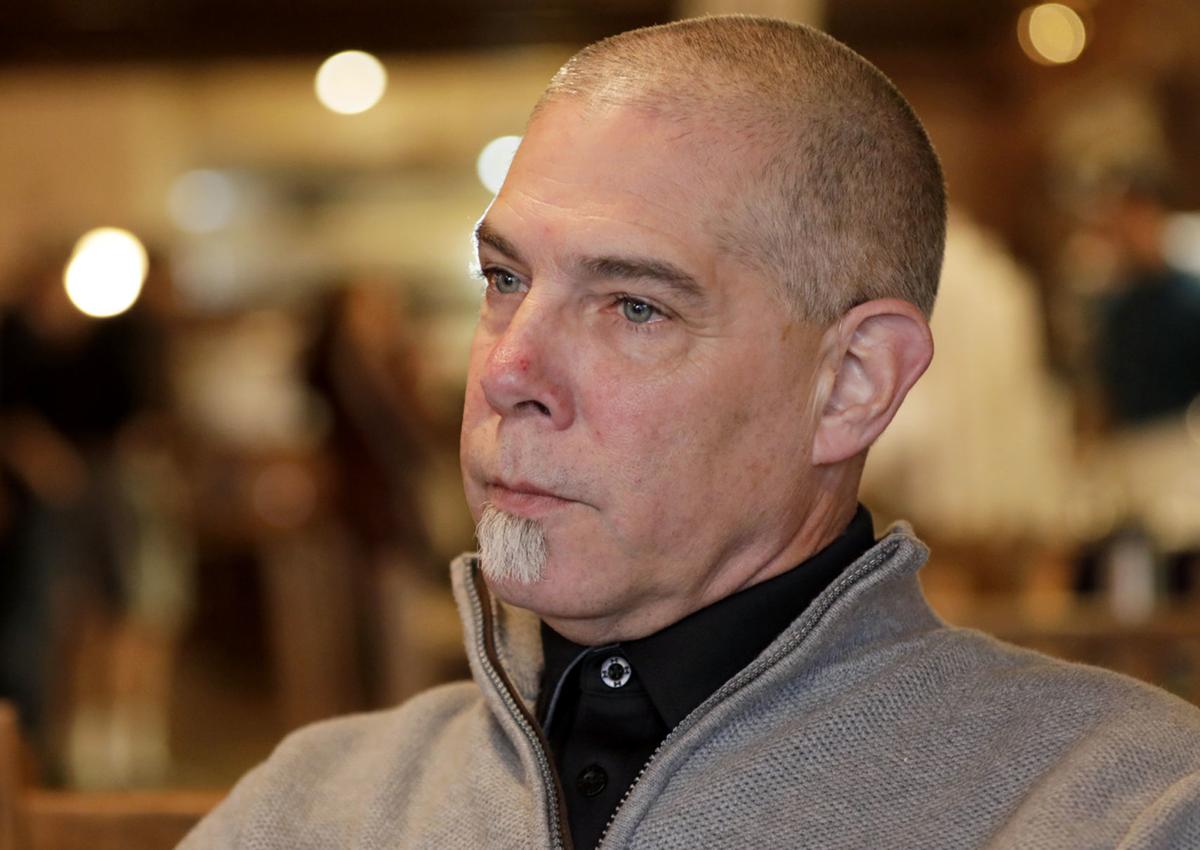 Buy Now
Victor Wright listens as Mike Jarnevic tells a story about his time in the military on Sunday. After 44 years of service, Wright retired in August, and is believed to be the last person in uniform whose service record includes a tour i n Vietnam.
Buy Now
Mike Jarnevic sports a pin with the Army Special Forces motto "d e oppresso liber." Before retiring in July 2015, Jarnevic served more than 42 years in the U.S. military, 36 of them in the Army Special Forces.
At their first face-to-face meeting over the weekend, Mike Jarnevic and Victor Wright â€" believed to have been the last active Vietnam War veterans in the United States military â€" discovered that at the start of each of their careers more than 40 years ago they truly had been ships passing in the night.
It was late 1974 when Jarnevic â€" who now lives in Piltzville just east of Missoula â€" was returning to the United States aboard the damaged USS Ranger. Replacing the ship and headed to the waters off the coast of Vietnam was the first nuclear-powered aircraft carrier the USS Enterprise, carrying aboard it an 18-year-old Wright.
"That makes both of us members of the Tonkin Gulf Yacht Club," Jarnevic said.
In the years since that passing in the Pacific the two men accumulated more than 72 years of combined military service, with Jarnevic retiring at a ceremony at Fort Missoula in July 2015 on his 60th birthday and Wright calling it a career after more than 30 years in the military on Aug. 31.
***
Meeting 63-year-old Jarnevic was not the primary reason Wright, 62, flew to Montana from his home in Virginia. Rather, the cross-country trip fulfilled a pact Wright made to Army buddy Aaron Bennett of Florence some 10 years ago at an air base in South Korea where the pair worked maintenance on helicopters.
"I promised Aaron that the next time we saw each other I would buy him a bottle of Johnny Walker Blue and it's taken this long to make good on that," Wright said.
When he retired and started planning out meetups with old service buddies, Bennett was high on the list. Wright, who first heard of Jarnevic after a seeing a story in the Marine Corps Times shortly before the latter's retirement, got to know him more over social media after a United Press International story about Wright's own upcoming retirement ran in the spring.
Wright said there was some backlash about the profile, with some people not believing he could have been in the service that long and only become a sergeant first class. He said he had been hesitant to do the story at all, even after being encouraged by other friends in the military that being the last Vietnam War veteran to leave active duty was something worth sharing.
"I didn't get shot at, didn't get a Purple Heart, didn't save anyone's life," Wright said. "When people see the rank they often think I must have messed up, but they often don't understand the intricacies of broken service."
Jarnevic was one of the people who came to his defense.
"Service is service regardless of what you did," he said.
The pair bonded over social media and stayed in touch throughout the year until Wright let him know he was coming to Montana for a quick visit, giving them the opportunity to meet in person for the first time.
"It's been one of the most rewarding weekends of my life," Wright said. "I just fell in love with Montana. I'm looking for houses already."
***
Jarnevic joined the Marine Corps in March 1973, the same day the last U.S. forces officially left Vietnam. Standing six feet tall and weighing 127 p ounds at the time, he said he was told he needed to gain at least two more pounds before the Marines could take him.
"All that summer I carbo-loaded as much as I could and when it was the day before my weigh-in I was still 127 pounds. So I filled my pockets with pennies," he said.
Vietnam Veterans' Voices: Mike Jarnevic was last known Vietnam vet to retire from military
First assigned to the USS Ranger, Jarnevic left for Yankee Station off the coast of Vietnam in May 1974. His ship was en route to Hong Kong for a rest and recuperation time when it was rerouted to Da Nang, under siege by the North Vietnamese with the potential need for an evacuation of the remaining noncombatants in the city. A crack discovered in the hull forced it back to the United States for repairs later that year.
Wright enlisted in the Navy in February 1974 at the age of 17. He's spent just over 30 of the last 44 y ears in military service, 25 of those on active duty and in that time has served in Vietnam, both Gulf Wars, Kosovo and tours in the Pacific, Indian Ocean, Kenya and Korea. His time in the military included the Navy and Navy Reserve, the South Carolina National Guard and, from 2007 until his retirement, the U.S. Army.
"It was really a calling, it was a vocation," Wright said. "When I came back (from Vietnam) we weren't treated well. It was harsh. Now that's all different. People come up and shake my hand and say thank you for your service. And now that I'm retired I'm going up to active duty people and telling them the same."
Four years ago, during his last assignment in Virginia, Wright saw the USS Enterprise â€" now being decommissioned at the Newport News shipyard â€" for the first time since 1978.
"When I mustered up the courage to go to the parking lot and look at Big E being taken apart I sat in my car and wept. I have nothing but the f ondest memories of being on board. I love that ship," he said.
After returning from his Vietnam deployment, Jarnevic left the Marines and went to trade school in Denver on the GI Bill, deciding while there to transfer from the Marine Reserve to the Army National Guard. He moved to Montana and eventually Missoula where he started a Masters of Fine Arts in writing degree under the tutelage of William Kittredge.
Another transfer to the Army Reserve Special Forces brought Jarnevic back to active duty when he was called up to serve as a Green Beret medic during Desert Storm in preparation for the invasion of Kuwait.
"I was working on my thesis at the time. We were on quarters and I missed the winter quarter of 1991. I got back the day before spring quarter started, and wrote my master's thesis on the deployment," he said.
After graduating, he crisscrossed the world in varying functions in military intelligence, ending with an assignment monitoring Mexican drug cartels and ISIL.
"You would sit there for hours every day and just see the brutality of about the worst two groups on the planet," he said.
At a ceremony at Fort Missoula in July 2015 â€" on his 60th birthday â€" Jarnevic retired from a military career of more than 42 years at the rank of sergeant major. But he said the same desire to commit to something bigger than himself that kept him in the military still drives him now.
Two weeks ago while working with Team Rubicon, an organization that brings veterans together to travel and help areas hit by natural disasters, Jarnevic went to Pensacola, Florida, to assist with hurricane relief efforts.
"What it all comes down to is service to a greater good. A lot of times you have to do things that aren't pleasant but you do them for the greater good," he said.
Dillon Kato
Law and Justice Reporter
Crime reporter for the Missoulian.
Follow Dillon Kato Your notification has been saved. There was a problem saving your notification.
Whenever Di llon Kato posts new content, you'll get an email delivered to your inbox with a link.
Email notifications are only sent once a day, and only if there are new matching items.
Follow Dillon Kato
Don't have an account?
Sign Up TodaySource:
Google News Vietnam
|
Netizen 24 Vietnam