Vietnam visitor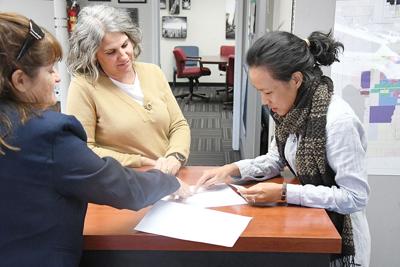 ONTARIO â€" Ontario has an international visitor touring around its operations for the next few weeks as part of a federal fellowship program.
Tien Le, 26, from Cần Thơ City, Vietnam, arrived in Ontario on Oct. 13. She serves as a fellow with the Young Southeast Asian Leaders Initiative Professional Fellows Program, a U.S. Department of State initiative providing 25 to 35-year-old emerging leaders in Southeast Asia the opportunity to work directly with American counterparts, building pr actical expertise, leadership skills and professional networks.
Le's journey to Ontario began with a visit from then-President Barack Obama to Vietnam in 2016.
"It was unbelievable because you never think you'd see Obama in Vietnam," Le recalls the experience of listening to him speak.
At the time, Le was part of the initiative, and through it, applied for and received grant funding to work on a small project.
Her project of choice was one based around educating the public on the importance of reading.
"Reading culture is not very popular in Vietnam," Le said.
Using the funding acquired with help from the initiative, Le organized author visits, and wrote newsletters out to the community regarding the benefits of reading.
However, Le has moved on to environmental concerns, and currently works as project officer at Tra Vinh University.
"I'm really concerned about the environment," she said.
Of note is Le's f ocus with environmental issues with Mekong Delta, which houses Cần Thơ City.
The Vietnam Environmental Association has posited, since as recently as last year, that the use of pesticides and chemical fertilizers in farming and solid waste discharge from villages and household is destroying the Delta.
As a result of her focus, Le is one of 15 fellows across the United States in the next four weeks focusing her fellowship on the theme of sustainable development and the environment. Civic engagement, economic empowerment, and governance and society form the remaining themes, with a total of about 200 fellows.
That isn't to say Le hasn't received a taste of civic engagement since her arrival.
This week alone, Le sat in on a candidate forum on Monday, with candidates seeking the office of mayor and city council; a Tuesday public hearing regarding arsenic discharge into the Snake River; and another public hearing the same night regarding time, place, and man ner regulations for marijuana related facilities.
Le, along with the other fellows, received a crash course about local government in the United States when they attended orientation in Washington D.C.
"There is no uniformed structure," Le took away from the information sessions.
That contrasts sharply with what is seen in Vietnam, a top down approach where local municipalities aren't given much latitude to affect big change.
Community participation and development have been additional topics of interest for Le.
"There are a lot of public hearings here," Le observed. "That surprised me."
Le has also visited Veteran Advocates of Ore-Ida, and has spoken with a Vietnamese refugee, along with Vietnam War veterans. Today, she will visit the Ontario Fire Department, will take a tour of Four Rivers Cultural Center, and will visit Ontario's recycling center. She also took in a show at the Meyer-McLean Theater titled "No-No Boy." It w as relevant to the fellow because the singer-songwriter who wrote all the songs, Julian Saporiti, grew up as a Vietnamese-American in Tennessee and looked to shine a light on interconnected Asian-American experiences.
When asked about the attitude about recycling in Vietnam, Le said there is an ongoing struggle with that awareness.
"But young people are paying attention to environmental awareness," she added.
As Le continues touring other facilities, the balance between economic development, finances, and environmental concerns will be an idea in the back of her mind.
That's because Vietnam has been and continues to suffer from pollution in rural areas with soil leaching into water supplies and general air pollution within metropolitan areas.
"I'm also interested in how farmers follow charters, how they apply chemicals to not contaminate soils," Le said.
At the end of Le's four weeks in Ontario, she will give a presentation to the community about her visit and about Vietnamese culture.
This isn't the first time Ontario has hosted fellows from the YSEALI program. Just last year, Thant Lwin Htoo, from Myanmar, and Kobchai Songsrisanga, from Thailand, toured the City of Ontario's facilities.
hunterm
Follow hunterm Your notification has been saved. There was a problem saving your notification.
Whenever h unterm posts new content, you'll get an email delivered to your inbox with a link.
Email notifications are only sent once a day, and only if there are new matching items.
Follow hunterm
Don't have an account?
Sign Up Today '; } else { sHTML += '' + this.content + ''; if (bShowAd == true) { // Show advertisement sHTML += '' bShowAd = false; } else { bShowAd = true; } sHTML += ''; } } } } else { if (this.id == sOriginID) { // Origin found. Begin dis playing assets bFoundOrigin = true; } else { // Origin found is false. Skip asset // Fail-safe in case origin is not present in set. This can be removed when origin is fixed. if (bFirstRun == true) { // Stored first id sFirstID = this.id; bFirstRun = false; } else if (this.id == sFirstID) { // We've started again. Force origin sOriginID = sFirstID; bFoundOrigin = true; } // end Fail-safe } } // Append infinity set to container $("#infinite-contain er").append(sHTML); }); // Include block_id on newly added list items $('#infinite-container .infinite-item.original').each(function() { var sHref = scrubURL($(this).find(".card-headline a").attr("href")); // Add to image and headlines links $(this).removeClass('original') .find(".card-headline a, .image a") .attr("href", sHref + "#tncms-source=infinity-scroll-summary-sticky-siderail-latest"); }); // Check next URL if (sNextUrl) { // if origin hasn't been found yet and we hit next_url. Trigger the set to pull in again. if (bFoundOrigin == false) { // No origin yet. Call the populate function populateInfinitySet(sNextUrl); } else { // Append sNextUrl to infinity set $("#infinite-container").append(''); } } // Refresh waypoints Waypoint.refreshAll(); if (sInfinityType == 'summary_sticky_siderail') { __tnt.regions.stickySide.determineStick($('#sticky-right-rail'), $('#sticky-right-rail-spacer'), 'siderail'); } } else { // Empty asset set returned. Go back in for a real set populateInfinitySet(sNextUrl); } }); } // Infinite waypoint var waypoint = new Waypoint({ element: document.getElementBy Id('infinite-container'), handler: function(direction) { if (direction == 'down') { if (bInfiniStop == true) { // FINISHED. Kill the waypoint this.destroy(); } else { // Log waypoint hit event __tnt.trackEvent({'category':'infinity-scroll','action':'request', 'label':'assets requested', 'value': true}); var nextURL = $('#infinite-more').data('next-url'); populateInfinitySet($('#infinite-more').data('next-url')); } } }, offset: 'bottom-in-view' }); // Rewrite URL to for preview function scrubURL(sURL) { if (typeof sURL != 'undefined'){ return sURL; } }Source:
Google News Vietnam
|
Netizen 24 Vietnam