POWERFUL City fortunate to host Vietnam Wall exhibit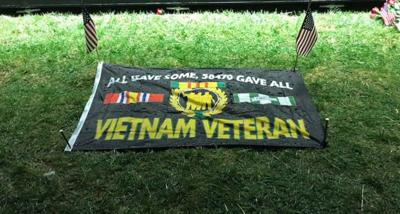 The first engraved name on the far left panel is John H. Anderson, Jr., and the last on the far right is Jessie C. Alba.
They are bookends of 58,316 more names -- a sad but necessary reminder of the terrible price America paid in the Vietnam War.
To call The Wall That Heals, the three-quarter scale replica of the Vietnam Veterans Memorial in Washington, impressive is to minimize the sacrifice of the people forever immortalized on it, along with their families.
To call The Wall a worthy memorial to the soldiers' service is closer to the truth, but even that falls short.
None of that, mind you, diminishes The Wall's importance. It represents an o pportunity for healing, understanding, and unity. Our community is fortunate to host the exhibit at Carson Park, lucky if it helps just one veteran or one family member find some semblance of closure.
There is never a bad time to visit The Wall, open until 2:30 p.m. Sunday, although guides -- knowledgeable, helpful and respectful in their interactions with visitors -- recommended seeing it at night, under the lights, adding to the solemnity.
They weren't wrong.
We visited late Thursday night, in the cold and steady rainfall, and were captured not only by the thousands of names, but also the scene around the chevron-shaped, synthetic granite panels -- patriotic, emotional and dignified.
We recommend you do the same this evening, absorbing the names, reading them, touching them, quietly acknowledging absent friends, family and countrymen.
We hope you note the personal memorials left at The Wall's base. Some mourners left candles, flowers and Ame rican flags. Some left letters saying "Thank you, veterans" and "I love you, Papa."
Some left photos and identifying information of those lost to the brutal war, such as Capt. Robert C. Profilet of Cairo, Illinois, and Sgt. First Class John L. Ponting of Emporia, Kansas.
One person left an opened can of Bud Light, the beer used presumably for a final toast to the fallen. Another left a flag tacked to the ground reading, "All Gave Some, 58,479 Gave All."
A nearby display bills the Vietnam Veterans Memorial upon which The Wall is based as an "eternal touchstone for the conscience of this nation."
"It will tell us, as no words can, of the awesome responsibility that we have as members of a free and dedicated society," it reads.
We find these words fitting, particularly when it comes to honoring our Vietnam veterans, who in divisive, charged times were de nied the honor and respect in their return home they rightly deserved. The treatment they received is this nation's lasting shame, but thankfully the opposite of how we acknowledge our veterans today.
Ten of our local Vietnam vets were profiled in a special series, a project The Sun was honored to work on. We thank the veterans who talked with us for their bravery in confronting often horrifying memories and for their service. We wish we could have spoken with more.
Our lasting impression of The Wall was left by the nearby display, specifically a quote from veteran and former Secretary of Defense Chuck Hagel: "Those who survive wars are either embittered or inspired to help make a better world. Like all veterans of America's wars, Vietnam veterans chose the latter course."
If only more could have made it home.
Source:
Google News Vietnam
|
Netizen 24 Vietnam