Local Vietnam vet guides grandchildren at The Wall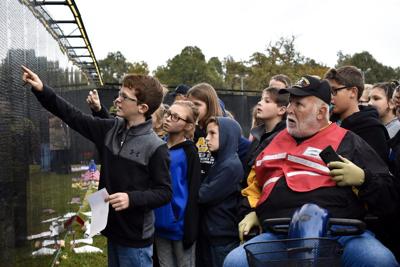 The Wall That Heals has been in Paducah since Thursday, providing Vietnam veterans and their loved ones the opportunity to remember and honor the more than 3 million Americans who served.
For one local Vietnam veteran, Gordon Heider, The Wall's arrival provided him the invaluable experience of starting a conversation with his five grandchildren about the war. He was even given the opportunity to serve as a guide when they visited with their classes on a school field trip Friday.
More than 58,000 U.S. military members died in the war, including 1,056 from Kentucky, 2,936 from Illinois, 1,418 from Missouri and 1,295 from Tennessee.
Three of those from Kentucky, Heider said, were his loved ones.
"There were four of us Heiders that went over, and I was the only one that came back," Heider said. "I've got three cousins on The Wall. That's why I feel so lucky."
When Heider was 18 years old, he began his service in Vietnam. When asked how long he served, he had a very specific answer.
"Three years, two months, 29 days," he said. "I honestly could probably give you hours, too. When you're 18 and they send you to another country and you're carrying an M79, that's a big shock."
For 25 years, Heider wouldn't talk about what he experienced in Vietnam . Even today, he said, it's difficult at times because it stirs so many feelings.
"I did not want to be over there," Heider said. "And once I got over there, I found out that I really did not want to be over there. But I was a soldier, I had a mission, and I did what I was told to do."
Heider has since come a long way and is willing to talk about his experience in Vietnam. Not only that, but he feels it is his responsibility to educate his children, grandchildren and others who are willing to listen.
For Veterans Day, Heider said he often gives his grandchildren shirts and hats but has not shared his war experience with them. Now though, as they are growing older, he believes they are better able to understand and hopes to use The Wall as an opportunity for discovery, education and remembrance of the family members they will never get to know.
"I am going to show them my cousi ns' names on The Wall," Heider said.
"And if they want to, they can do a rubbing of those names. This is just so important because so many people can't make it to D.C. to see the real wall."
Although many people do not get the opportunity, Heider has had the privilege of visiting the Vietnam Veterans Memorial in Washington.
He was able to watch his grandson, Bailey Heider, perform a rubbing of each of his three cousin's names and guide his four other grandchildren, Katelyn Heider, Jackson Heider, Drew Heider and Carter Brown, around The Wall Friday.
"I think it's great to see the students down here," Heider said after helping his grandson's fifth grade class get close to The Wall. "We've had busload after busload come in. I hope they never have to live with this kind of battle."
Source:
Google News Vietnam
|
Netizen 24 Vietnam