For local pastor, Vietnam remains 'thorn in my side'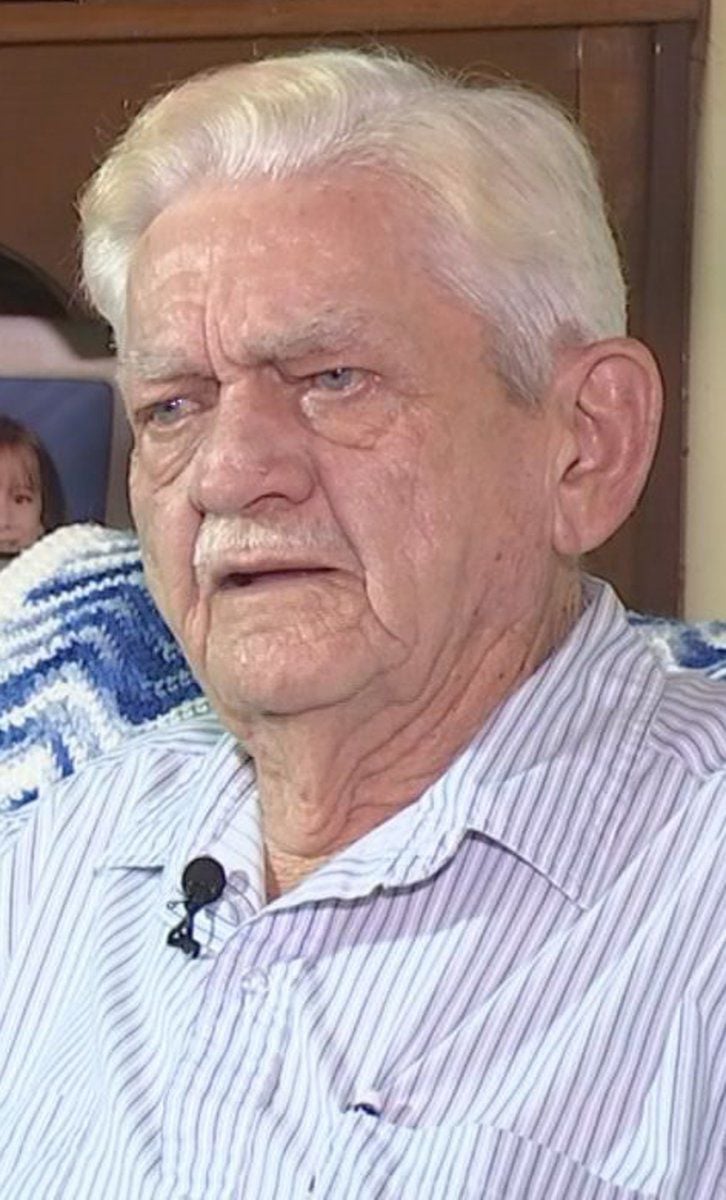 Gray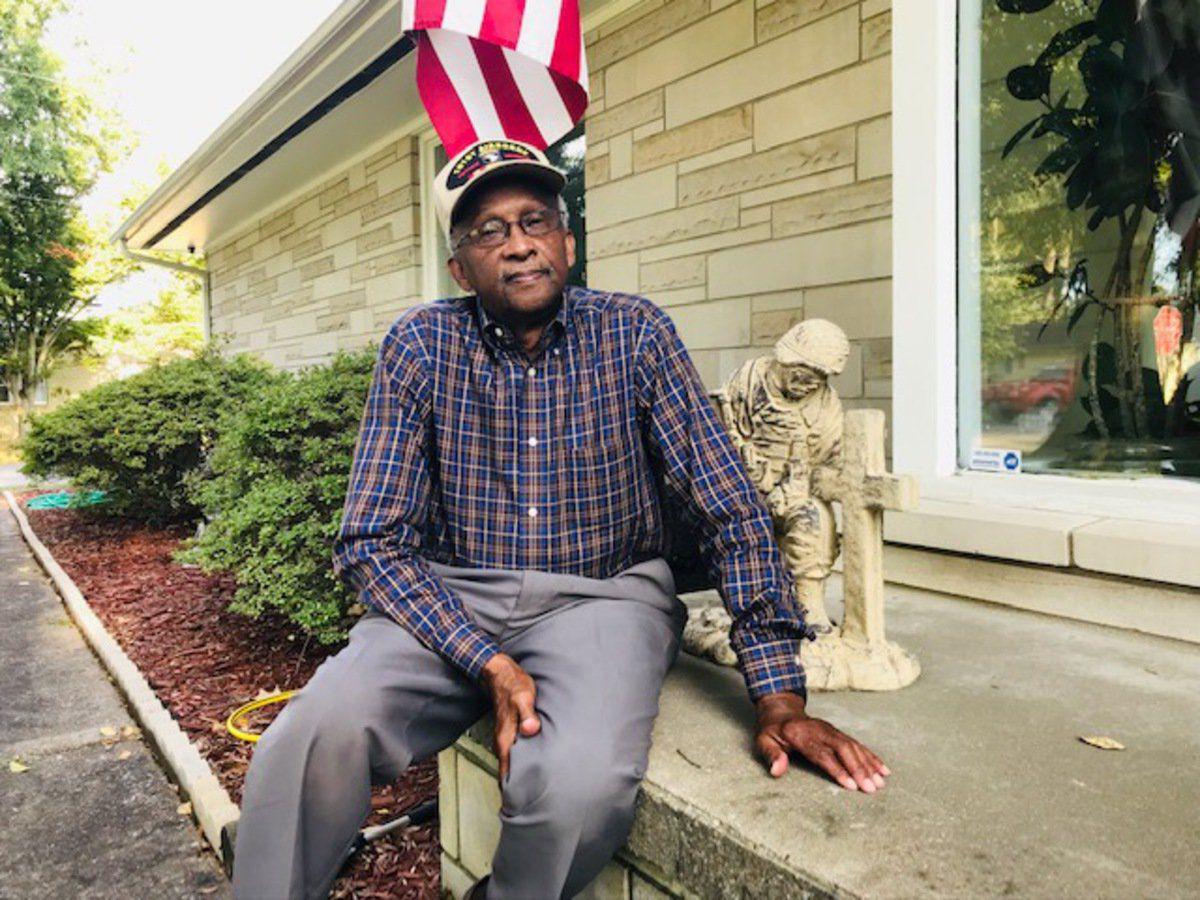 Ronnie White, 70, a Paducah resident, engaged in heavy combat with the 101st Airborn e while serving a year in Vietnam. Today an area pastor, he sits next to a praying soldier statue on his front porch.
JOSHUA ROBERTS | The Sun
Editor's Note: Ninth in a 10-week series honoring Vietnam veterans, prior to the arrival in Paducah of The Wall That Heals on Oct. 25.
By JOSHUA ROBERTS
jr oberts@paducahsun.com
War is hell, Ronnie White said, and combat is worse.
You'll have to trust him on this, he says. Because unless you've been there, in the triple canopy jungle, walking point for nine months, 100 pounds on your back, M-16 in your hands, enemies on all sides, on edge and remembering what drill instructors hammered into you -- "stay alert, stay alive" -- he can't truly articulate the difference.
No one can.
"When I stepped off that plane in Vietnam," said White, 70, a retired Paducah resident and former Army sergeant, "you could smell death. Smell it. It's something you never forget.
"You can wash all you want to, but it's still there."
Originally from Cairo, Illinois, White was a carefree, 20-year-old in 1968, just out of trade school and starting his career in Paducah as a carpenter when his mother opened a letter s ent to the house.
She told him words that forever changed his trajectory -- "You're drafted."
America had called on White's family for military service before. His father and uncle served in World War II, and his two older brothers served in Vietnam.
Then it was his turn.
White arrived in June 1969 in Long Binh. Second Battalion, 501st Infantry, 101st Airborne. He walked point because, a commanding officer told him, "You're expendable."
"A lot of times the point man is the one who is going to walk into the ambush, the one who walks into a booby trap," White said.
"Before I went to the military, the only gun I'd ever picked up was a BB gun." But in Vietnam, he said, "I was very afraid … and I shot everything the United States Army had."
White says his Christian faith and a promise explain how he made it home from the war a year after he went, how he wasn't so much as injured -- physically, anyway.
"I tell people like this: Before I went to Vietnam, I had heard of God. When I got there, I met Him," White said. "God wasn't lost, I was lost. Of all the stuff I saw in Vietnam, I was afraid, and I wasn't no praying man at the time, and I said, 'Lord, if you bring me back to the world, I'll praise you.'
"I made a vow, and I've tried to keep it."
That doesn't mean Vietnam didn't exact a price.
Sitting on the back porch at his home, White points to his surroundings in describing how fear has never left him, present today as then.
"When that garage door goes down at night, I've got to stand there and make sure it hits the bottom and it's down. That door right there? Dead bolt on it," he said. "My wife locks a door, I go behind her and check. I call it 'watching my perimeter.'"
He has post traumatic stress disorder, he says, and sleeps only a few hours each night.
Sometimes he has flashbacks, cold sweats. Sometimes he cries.
He's startled by loud, abrupt noises. If he's out at night, such as when he brings the garbage can back from the alley to the house, he carries something in his hand "in case something comes out of the dark."
He knew it was time to retire from work 14 years ago, he recalls, because he thought he saw a North Vietnamese soldier lurking in the shadows.
"Most of us vets are sick," White said.
He has avoided the pitfalls of self-medication like alcohol and drugs. But he talks about a time shortly after returning from the war to McCracken County in describing what was then his short fuse.
He and his family were living out in the county, and a neighbor kid was throwing empty Coca-Cola bottles, the old glass bottles, over his privacy fence. Some were hitting White's house, some the basketball court where his so ns played.
"I'm thinking, 'A pop bottle hits my kid in the head, my kid's dead,'" White said. "So I went in the house, I called the sheriff and told the sheriff, 'The next time a bottle hits my house, I'm getting my pistol.' And believe it or not, as I'm talking to the sheriff, a bottle hits my house.
"I hung up and got my pistol. I went next door -- I'm not proud of this -- and I stuck that gun in that man's (the father's) nose. I told him, I said, 'I will blow (mumbles expletives),' and I can still see that man shaking. I could have killed that man, and I could have been in (prison) just that quick."
White tells the story with regret. "I'm not that guy today," he says. "I've grown."
He was in therapy for a time, finding some solace among other veterans. He credits Dr. Gordon Williams, a clinical psychologist at the Kelley Psychiatric Clinic in Paducah and a fellow Vietnam veteran, for his help.
But some things can't be undone. Some memories and experiences are embedded, and that's just the way it is.
"I could sit right here at nighttime and look at that fence row and start seeing movement, I see it just like it was yesterday," White said. "You don't forget. De-program the human mind? How you gonna do that?
"You see your brothers fall around you, man, it has an effect. It's still here (pointing to his heart). It is."
White said he's glad The Wall That Heals is coming to Paducah this month. He'll be there every day, volunteering. "We need some healing, including me," he says.
His is not a sad story, White points out, just an honest one of an imperfect man who served his country and tried his best there -- and here.
He's been married to Lynda for 47 years. They h ave two sons, Ron, a carpenter, and Chad, an electrician, and five grandchildren. Together, the family buys, renovates and flips houses.
Eleven years ago, White took over as pastor at New Bethel Free Will Church in Brookport, Illinois, ministering to a congregation each Sunday of about 30. He's also president of the Lions Club in Metropolis.
White said he's grateful he served in Vietnam, that he had the opportunity to wear the uniform, despite knowing his war "will never be over."
"You know anything about the Bible?" he asks.
"There was a thorn in Paul's side. God could have removed the thorn, but he didn't. That thought of Vietnam in my mind is to keep me praying. If it wasn't there, maybe I wouldn't pray. (The war) is the thorn in my side."
Retired Air Force Sgt. Ed Gray of Paducah enlisted in the military in 1951. As an aero medical technician during the Vietnam War, Gray was a part of a tea m that would fly into one of three base camps in South Vietnam to pick up wounded soldiers, care for them in a cargo plane-turned flying hospital and transport them to the Philippines for additional care before the soldiers returned to the U.S. His experiences during Vietnam left a lasting impression decades later. Watch WPSD Local 6 at 10 p.m. Thursday for this story.
Josh Robert
Follow Josh Robert Your notification has been saved. There was a problem saving your notification.
Whenever Josh Robert posts new content, you'll get an email delivered to your inbox with a link.
Email notifications are only sent once a day, and only if there are new matching items.
Follow Josh Robert
Don't have an account?
Sign Up TodaySource:
Google News Vietnam
|
Netizen 24 Vietnam