For Ed McFarland, Vietnam tour was an immersion in the culture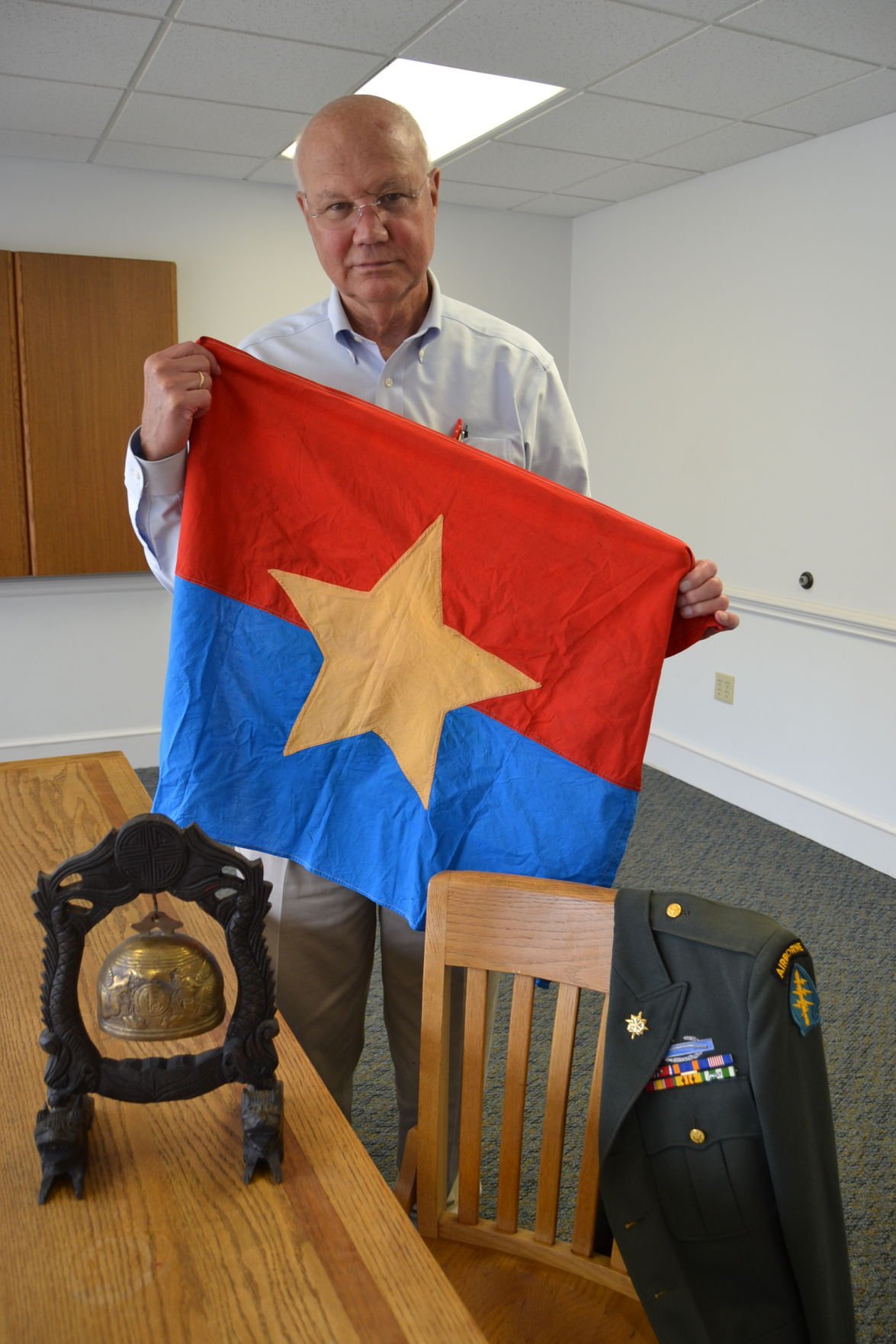 J. Edgar McFarland is shown with several items from his Vietnam days, including a flag, a school bell and his uniform jacket.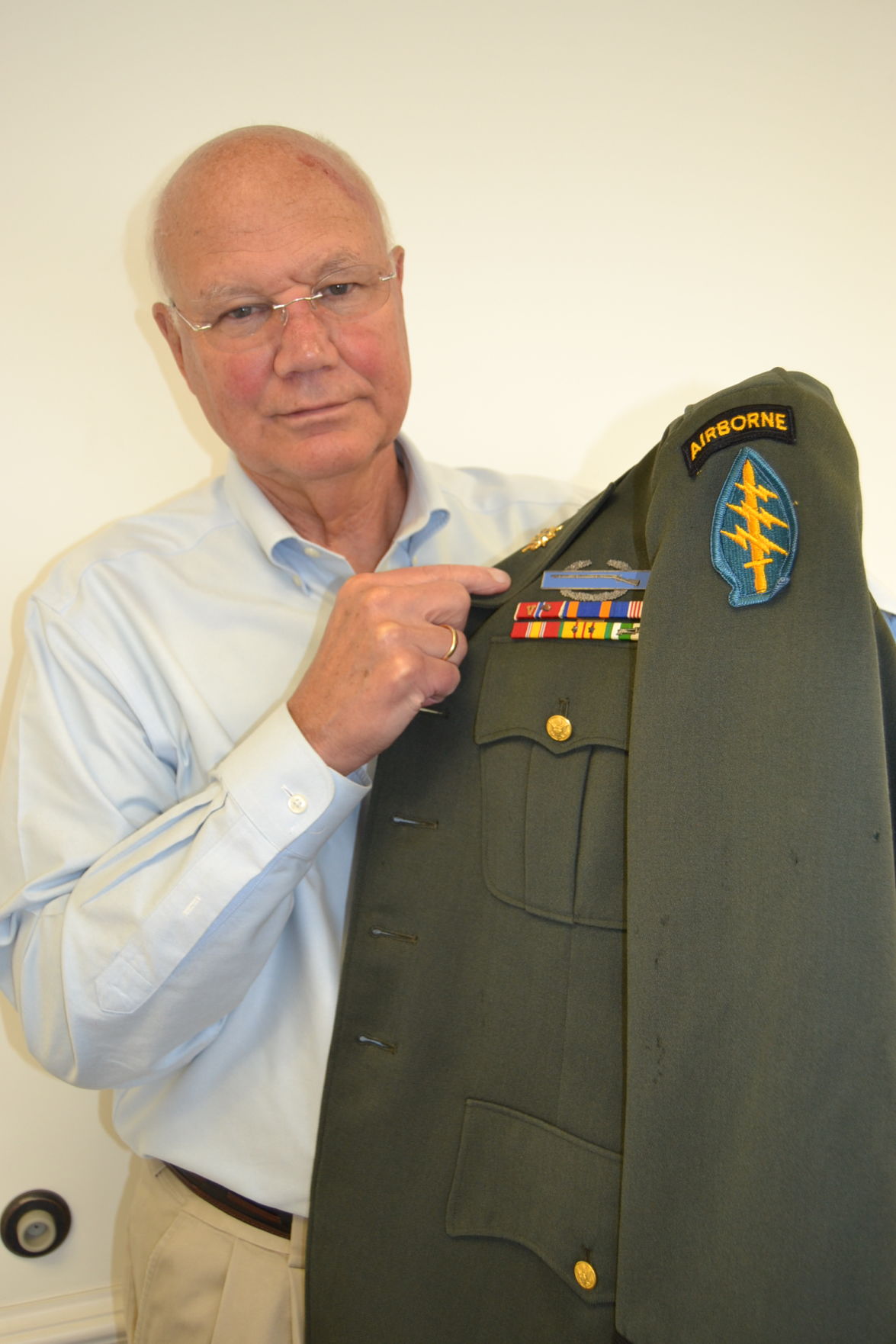 J. Edgar McFarland is shown with his uniform jacket from his days in Vietnam.
During his year-long tour in Vietnam in 1967, J. Edgar McFarland came to know â€" and love â€" the Vietnamese people.
Unlike many who served during the Vietnam War, McFarland lived in a village south of Saigon where he was immersed in the country's culture. As a U.S. Army intelligence officer, his duty was to work with informants to avert attacks and to capture those who might have valuable information about the enemy.
"We had informants that would tell us if there was movement, and we would go out on a night raid," he explained. "Our principal enemy was the Viet Cong, not the North Vietnamese. … We were never in a big battle, but there were lots of small ones."
There were five Americans in the group who worked closely with the South Vietnamese to protect the valuable agricultural region with a major highway leading into Saigon. It was an area so flat there are no contour lines that even register on a topographic map.
To reach the areas of reported enemy activity, it was necessary to march over dikes in the rice paddies that were about a foot wide and calf-deep for those who fell off.
"For my Vietnamese counterparts, that was no problem," he said, adding that night marches in such conditions were pretty challenging for him and his colleagues.
McFarland recalls one particular night raid where they looked into a hooch (a small Vietnamese dwelling) to see several Viet Cong cleaning their rifles. As they stepped back to form an attack line, those inside became alarmed and fired a rocket that came very close to his head.
"We had a local unit and worked with them much like the National Guard to coordinate U.S. support with helicopters and artillery," he said of the raids based on intelligence provided by an informant. "I had a (Vietnamese) counterpart and usually one radio man. We were the only Americans."
The mission was to capture the enemy to find out information that could help the South Vietnamese cause in the civil war. Those captured were sent to POW camps, McFarland said, noting torture was strictly against the Geneva code.
"The Vietnamese didn't follow it, though," McFarland said. "They most often thought they could get more information if they tortured peop le, which absolutely is not true. As (U.S. Secretary of Defense James) Mattis said, give me a six-pack of beer and a package of cigarettes, and I can get more information than I ever will by torturing. If you want good information, don't torture."
It wasn't so much the combat, but the chance to become ingrained in a different culture that that left an indelible memory upon McFarland's life.
Life in Vietnam
McFarland was stationed in a hamlet called Ben Luc, which was in the Longan province. He and the small group of Americans lived in a home similar to the natives in the hamlet.
"Family is central," he said of the culture, "and the Vietnamese cuisine, while sometimes not terribly attractive, was very good food for the most part," McFarland said.
His first meal as an honored guest at a banquet was memorable because of the chicken head that topped off his bowl of rice.
"That's for the honored gues t," he said. "I took a few bites and it tasted like chicken."
The Vietnamese ate chicken often and wasted nothing, he recalled.
"Literally, they would kill a chicken throw it in a big pot of hot water and take the feathers off. Then they would start chopping it up, including the entrails. They put that in a full pot of rice," he explained. "You didn't get a chicken leg or a wing or a breast, you got pieces of chicken mostly with the bone in. You'd put it in your mouth and suck the meat off, spitting out what was left. It was really quite good."
The Vietnamese had an incredibly effective method for growing greens, he said. It included placing an outhouse over a fish pond where both greens and fish would be grown.
Upon his return home, he met a fellow who did research in graduate school to study the productivity of those types of ponds and concluded they were extremely productive because of the fertilizer from the outhouse for the pond that fed both the fish and greens.
To this day, a Vietnamese spring roll is one of McFarland's favorite foods.
"It's different from Thai, in that it is not fried," he explained. "They make them with a pot of hot water cooking rice vermicelli which is drained. The spring roll is floated in warm water for just a minute before it is stuffed with lettuce, greens or some kind of meat and vermicelli and then rolled up.
"They are very hard to get, so I learned to make them," McFarland said. "The best sauce is peanut sauce made with peanut butter and hoisin. When you mix the two, it becomes a dipping sauce."
Much of the nation's influence came from the French, who had previously colonized the nation, he said, and the literacy rate in the country was extremely high.
There were two staples of the cuisine that McFarland said he absolutely couldn't eat. One was eggs that had been placed on a sheet in the sun for 17 days after which they would be broken open to eat the little chick inside. The second was blood pudding, which was simply congealed animal blood.
"It's the same thing they do in Scotland," McFarland said of the blood pudding, "but it's just repugnant to me."
Other cultural norms McFarland noticed in Vietnam was that the women did most of the work while many of the men spent a lot of time drinking and a strong dependence on rice, the sticky kind, which was a mainstay for e very meal.
Men and women did work together in the agricultural area outside the village where rice was grown, dried and sold.
Download PDF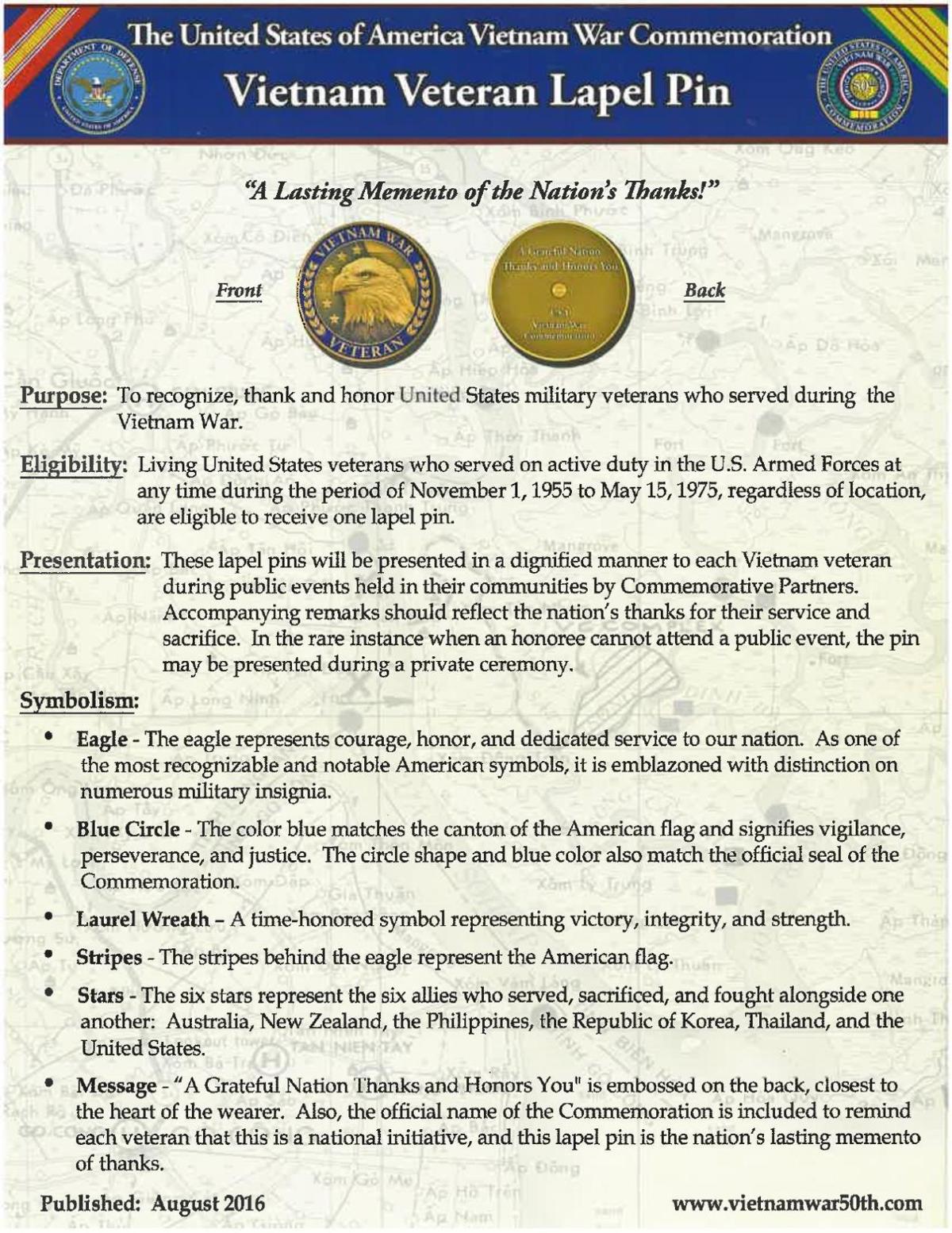 "After it was harvested, they would pile wet rice on a cloth and let it sun dry," McFarland said. "They would then take the ends of cloth and toss the rice up in the air when there was a wind blowing that carried hulls away. They would keep doing that until there was a pile of dried, white rice."
Friendships
McFarland said he made great friends during his year in Vietnam, friends he lost touch with after the war because they were captured and sent to re-education camps. These were prison camps operated by the Communist government of Vietnam following the end of war where prisoners were kept for between three to 10 years.
"I was very much a part of the culture and learned some of the language," he said. "More importantly, my best friends were Vietnamese, and I credit those friends with keeping me out of danger. I was heartbroken the way the war ended, and the way they were all captured."
McFarland said Vietnam is now viewed as a "sort of a miracle economy, very robust."
"Like China, no political dissent is allowed. There's one party and leaders are chosen according to who they know," McFarland said. "But there's a great emphasis on free trade and being part of the civilized world."
The trade-off for economic prosperity in Vietnam is individual freedom, McFarland said, adding that included gun ownership and the right to an opinion other than that of the state.
Looking back on his time in Vietna m, McFarland said he heartily agrees with Civil War General William Tecumseh Sherman, who is remembered for his remark "war is hell."
"We tend to glorify it, and that's terrible," McFarland said of war, "plus we've seen how awful it is for our returning soldiers. The VA has major psychological programs because there are so many vets with problems."
Download PDF
McFarland said the problems now aren't much different than in other wars, but weren't acknowledged back then. After WWII, it was simply called battle fatigue. In Vietnam, it was Agent Orange and other toxins for which the government denied responsib ility for years.
Back home
Upon his return to the states, McFarland said he wasn't treated with contempt, but more like indifference.
"It was like, 'well, you're back now. Let's get back to the way life was before you left.' Nobody wanted to know anything about what I did over there," McFarland said. "Looking back on that, it was painful. It was a major experience in my life and nobody was much interested in hearing about it."
His family was "very Presbyterian," he said, where the obligation for duty was stressed and the culture was never to feel guilt.
Following his tour in Vietnam, McFarland enrolled in the business school at UNC-Chapel Hill, where he got a degree with a concentration in finance. He spent most of his career in banking, starting out with Trust Company Bank (now SunTrust), then Wachovia, and then working with others to start High Street Community Bank.
He now works several days a week as an adjunct professor at Western Carolina University where he teaches banking and finance.
Vicki Hyatt
Follow Vicki Hyatt Your notification has been saved. There was a problem saving your notification.
Whenever Vicki Hyatt posts new content, you'll get an email delivered to your inbox with a link.
Email notifications are only sent once a day, and only if there are new matching items.
Follow Vicki Hyatt
Don't have an account?
Sign Up Today '; } else { sHTML += '' + this.content + ''; if (bShowAd == true) { // Sh ow advertisement sHTML += '' bShowAd = false; } else { bShowAd = true; } sHTML += ''; } } } } else { if (this.id == sOriginID) { // Origin found. Begin displaying assets bFoundOrigin = true; } else { // Origin found is false. Skip asset // Fail-safe in case origin is not present in set. This can be removed when origin is fixed. if (bFirstRun == true) { // Stored first id sFirstID = this.id; bFirstRun = false; } else if (this.id == sFirstID) { // We've started again. Force origin sOriginID = sFirstID; bFoundOrigin = true; } // end Fail-safe } } // Append infinity set to container $("#infinite-container").append(sHTML); }); // Include block_id on newly added list items $('#infinite-container .infinite-item.original').each(function() { var sHref = scrubURL($(this).find(".card-headline a").attr("href")); // Add to image and headlines links $(this).removeClass('original') .find(".card-headline a, .image a") .attr("href", sHref + "#tncms-source=infinity-scroll-summary-sticky-siderail-next"); }); // Check next URL if (sNextUrl) { // if origin hasn't been found yet and we hit next_url. Trigger the set to pull in again. if (bFoundOrigin == false) { // No origin yet. Call the populate function populateInfinitySet(sNextUrl); } else { // Append sNextUrl to infinity set $("#infinite-container").append(''); } } // Refresh waypoints Waypoint.refreshAll(); if (sInfinityType == 'summary_sticky_siderail') { __tnt.regions.stickySide.determineStick($('#sticky-right-rail'), $('#sticky-right-rail-spacer'), 'siderail'); } } else { // Empty asset set returned. Go back in for a real set populateInfinitySet(sNextUrl); } }); } // Infinite waypoint var waypoint = new Waypoint({ element: document.getElementById('infinite-container'), handler: function(direction) { if (direction == 'down') { if (bInfiniStop == true) { // FINISHED. Kill the waypoint this.destroy(); } else { // Log waypoint hit event __tnt.trackEvent({'category':'infinity-scroll','action':'request', 'label':'assets requested', 'value': true}); var nextURL = $('#infinite-more').data('next-url'); populateInfinitySet($('#infinite-more').data('next-url')); } } }, offset: 'bottom-in-view' }); // Rewrite URL to for preview function scrubURL(sURL) { if (typeof sURL != 'undefined'){ return sURL; } }Source:
Google News Vietnam
|
Netizen 24 Vietnam