Vietnam vet came home to unfriendly reception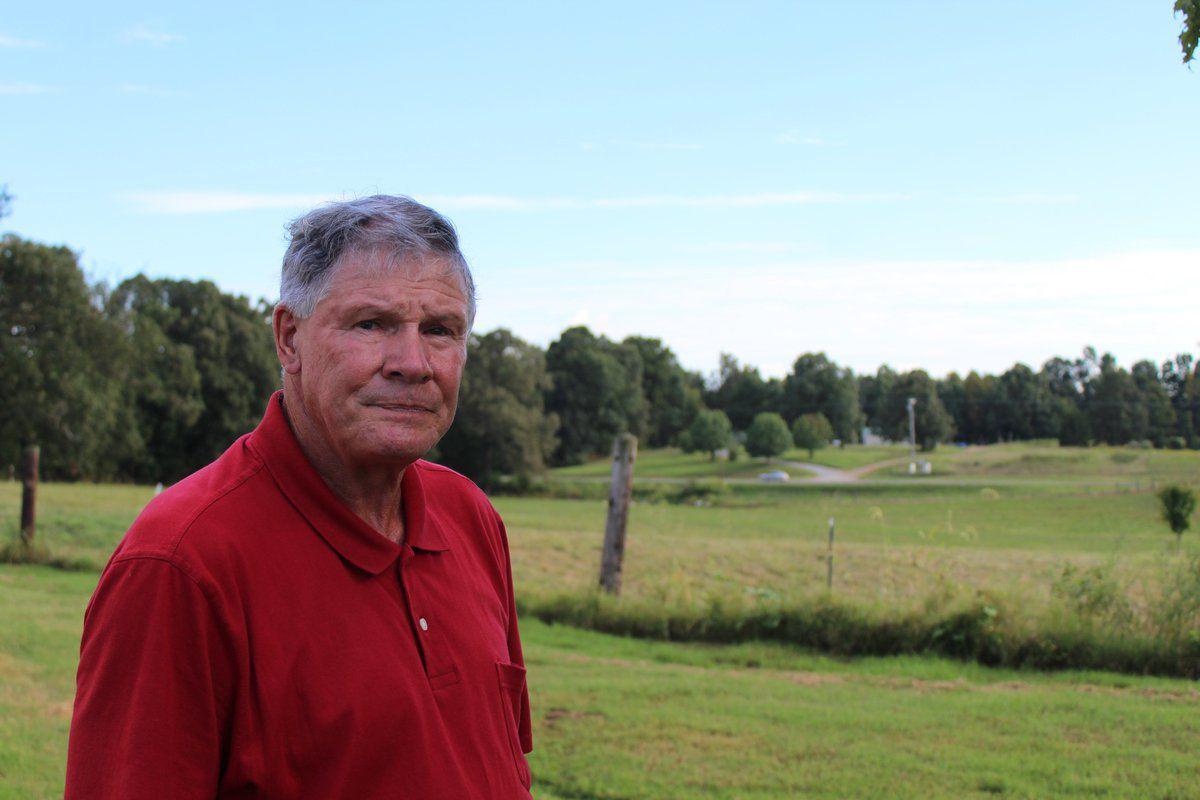 DEREK OPERLE | The Sun
Vietnam veteran Larry Wooten, 71, stands in front of a field on his Smithland farm.
Contributed
Larry Wooten sits on a rock overlooking a field in Vietnam where he served with Army mortar units in 1967-68.
Editor's Note: Fourth in a 10-week series honoring Vietnam veterans, prior to the arrival in Paducah of The Wall That Heals on Oct. 25.
BY DEREK OPERLE
doperle@paducahsun.com
As he sat in a barber's chair receiving the traditional serviceman's buzz cut, Larry Wooten steeled himself to face what he would later consider the worst year of his life.
He became a member of the U.S. Army on January 13, 1967, his 20th birthday.
Wooten reported to Fort Campbell for basic training, keeping him close to home, before being sent to Fort Polk in Louisiana for advanced training. He departed for Vietnam in June of 1967.
When the Army plane carrying him descended into Pleiku, a city in central Vietnam, he remembered wondering, "What in the world have I got myself into?"
While in Vietnam, Wooten would rise to the rank of sergeant, leading mortar units in various parts of the country during the Tet Offensive. He received a combat infantry badge (CIB) for surviving a firefight in a field.
"We were crossing a small clearing and started receiving fire. Big time," Wooten said. "I got down and did my best to hide behind the base plate (of my mortar). I was by myself. I saw the grass popping up all around me from the bullets, and it dawned on me: They're shooting at me."
Isolated and ta king enemy fire, he hustled to safety.
"I took off and left everything that was packed on me behind," he said.
"When I came out after the firefight was over to get my stuff, my sergeant slapped me on the back and said, 'Congratulations, Woot. You just won yourself a CIB.'"
To which he replied, "Sarge, you take that CIB and do whatever you want to with it. Just send me back to Tennessee."
In the spring of 1968, 17 of Wooten's fellow 196th Infantry Brigade soldiers were dispatched to Kham Duc, near the Laotian border, where a three-day battle was raging.
"They were sent out to replace the special forces. The next day was Mother's Day. Every one of them was shot and killed," he said. "I let my commanding officer know that I wanted to go in and get those guys, retrieve their bodies or their dog tags. They wouldn't do it."
The bodies were never retrieved. It was not until 2006, nearly 40 years later, that their remains were identified near Ngok Tavak, almost 3 miles from the site of the battle. "I still remember all the guys' names, where they were from and most of their favorite songs," Wooten said. "I really regret not being able to retrieve them, for their families."
He vividly remembers the nerves that took over on the plane ride out of Vietnam on the way back to the U.S.
"When we flew out of Cam Ranh Bay they were having a battle there, and we were scared. We just knew we were going to get shot down. We were all looking at each other," he said.
"After a while the pilot radioed back, telling us we'd reached the height to clear artillery and that 'It looks like we're headed home.' Everyone of us started hollering and clapping hands."
He got to Vietnam on June 15, 1967. He would leave on June 17, 1968.
&quot ;A leap year and two days," Wooten recalled.
Like many other Vietnam veterans, he did not feel welcome when he returned to his home country.
"Once you got off the plane people would be cussing you," he said. "They'd walk in front of you and spit on the floor where you'd have to walk. Most of the guys that were in Vietnam at that time were drafted. They didn't want to go, and still the people back home treated us like dirt."
The insults weren't the only thing Wooten faced after the war. He recalls being turned away from jobs because of his veteran status.
A hiring manager at his future employer, the Tennessee Valley Authority, told him "Vietnam veterans are trouble" before turning him away.
Only after telling the manager he was going to call Robin Beard, a Tennessee congressman at the time, to ask why there was a problem with hiring Vietnam veterans was Wooten offered a job.
He went to work at the TVA's Cumberland Steam Plant, near his old hometown. While working there as a foreman, he met his wife, Ruth. Together they moved to Smithland in 1985, after Wooten took a job at the nearby Shawnee Steam Plant.
During his youth, he lived and worked on a farm with his grandparents. After retiring from the TVA, Wooten, now 71, has returned to his farming roots. He spends his days raising cattle, sheep and goats with his wife on their Smithland farm.
His father, Forest Wooten, was a World War II veteran and was stationed at Pearl Harbor on Dec. 7, 1941, when it came under attack.
The Lawson family lost a husband and father in 1967 to Vietnam, but it wouldn't be until 2008 that they would learn the truth of the circumstances surrounding Sgt. 1st Class William E. Lawson's death. Watch WPSD Local 6 at 10 p.m. Thursday for this story.
Source:
Google News Vietnam
|
Netizen 24 Vietnam