A tale of three brothers in Vietnam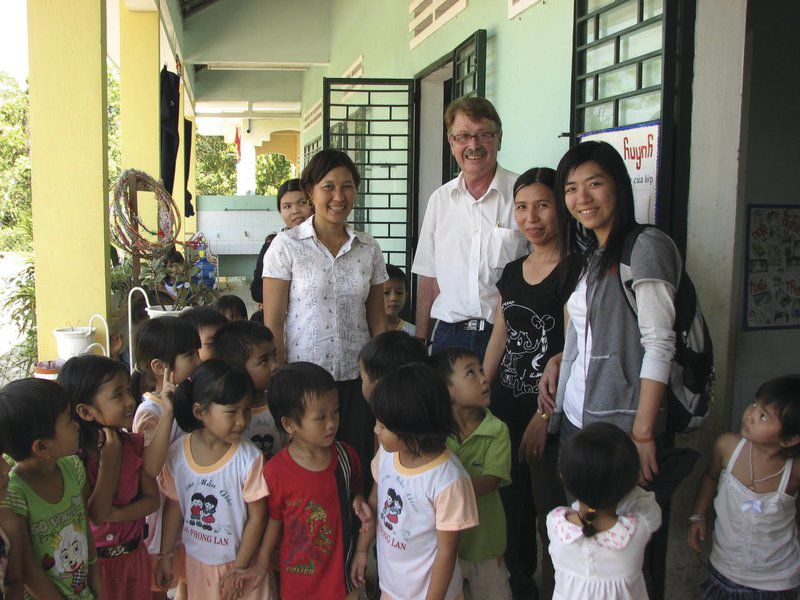 PHOTO PROVIDEDMark Conroy poses for a photo at a school he built in the Da Nang area under the auspices of the East Meets West Foundation. Along with his brothers Pete and John, the three will host a panel discussion at the My Lai Memorial Exhibit at 7:30 tonight.
WHALLONSBURG â€" Vietnam is shot through the lives of brothers John, Ralph "Pete" and Mark Conroy of West Chazy.
Jo hn and Pete were drafted by Uncle Sam during the Vietnam War, and Mark received double farm and marital deferments while his brothers were in country.
VIETNAM CALLING
Decades after the war, Mark was the Vietnam director of the East Meets West Foundation, founded by Le Ly Hayslip, for more than 20 years.
They participated in an informal discussion and Q&A, "Healing the Wounds of War in Vietnam," as part of the programming at the Mỹ Lai Memorial Exhibit held in the Whallonsburg Grange Hall over the weekend.
The infamous Mỹ Lai Massacre of 504 unarmed Vietnamese civilians, mostly women and children, by U.S. troops in South Vietnam on March 16, 1968, happened while John was back stateside.
While in country, he was attached to the U.S. Army 185th Maintenance Battalion around Long Binh and Biên Hòa.
He went over October '66 and returned November '67.
"I did a lot of things," the stable owner and journalist said.
< p>"I was a convoy driver, night patrol, ambush patrol, things like that, listening post. I was a ration man for the company. I was a post office man once. I drove for the captain."
Pete â€" attached to the U.S. Army, 1st Platoon, B Company, 1st Battalion, 7th Cavalry, 1st Cavalry Division â€" was an infantryman patrolling I Corps fields in the north near the DMZ.
He came back to the states in late January/early February 1969.
"We didn't hear about Mỹ Lai while in the country," Pete said.
"I heard about it when I got home."
RECOVERY AND RECONCILIATION
Mark went to work for the East West Foundation in 1994.
His main office was in Da Nang, but the foundation had a branch office in Quang Ngai near My Lai.
"We used to have an office down there when we worked a program, a support network, for people with disabilities," said Mark, who recently retired.
He attended a ceremony for the 30th anniversary of the massacre.< /p>
"They had 60 Minutes there with whoever was running that at the time," Mark said.
"They had Hugh Thompson there who was the helicopter pilot that went in and stopped the massacre. They also had one of his gunners with him. A lot of the local people went from the surrounding area."
He was in attendance with a delegation from his Da Nang office.
"There were a few other people. They are foreigners I knew around the city at the time. That was in March of 1998."
LESSONS NOT LEARNED
About 3 to 4 million civilians died in North and South Vietnam during the war.
"It became the most public one but if you look at the casualty rate there, there had to be quite a lot of Mỹ Lais," John said.
"Many people say the whole Vietnam War was a My Lai. They didn't all get vaporized with B-52s. It's Americans that do mass warfare because they do it in such high-tech ways. In Vietnam, I would call it targeting civilians because they were considered to be VC or harboring VC or helping. It was an ugly situation."
He sees the similarities with Iraq and Afghanistan.
"You got an occupational army," John said.
"After a while, especially with the killing that is going on, let's face it, no one in the country is particularly enthusiastic about you to say the least. It's only common sense. What the hell would you think here if one of these guys were (here)?"
Email Robin Caudell:
rcaudell@pressrepublican.com
Twitter:@RobinCaudell
IF YOU GO
WHAT: Mỹ Lai Memorial Exhibit
WHEN/WHERE: Saturday at the Whallonsburg Grange Hall and Sunday at the John Brown Farm in Lake Placid.
NOTE: The Mỹ Lai Memorial Exhibit is a project of Chicago Veterans for Peace and "honors the Vietnamese people who died as a result of our political and military actions in their country dur ing their American War." The exhibit supports the mission of Veterans for Peace, which is to "seek justice for veterans and victims of war, expose the true costs of war and to work for peace."
HOURS: The exhibit will be open noon to 7:30 p.m. Saturday.
SATURDAY PROGRAM:
Exhibit designer Mac MacDevitt will be in attendance at 2 p.m. to meet visitors and answer questions.
At 6 p.m., Martha Swan, executive director of John Brown Lives!, a nonprofit organization supporting human rights and social justice issues, will hold an informal chat and discussion.
At 7:30 p.m., Louis Bickford will present "Confronting the Past: How Societies Deal with Past Atrocity." Drawing on his 20-plus years as a human rights activist and consultant, Louis will discuss ways in which Argentina, South Africa, Bosnia and other countries have handled the aftermath of conflict, including war-crimes tribunals, truth commissions and m emorialization.
On Sunday, the program continues at the John Brown Farm in Lake Placid. From noon to 3 p.m., Gerry Zahzvi, professor of history and director of the Documentary Studies Program and the Public History Program at SUNY Albany, will lead an oral history workshop, "Asylum Seekers at Our Borders: Gathering and Sharing Their Stories."
At 4 p.m., Janet McFetridge, founder of Plattsburgh Cares, and Emily Martz will show a short PBS video on asylum seekers crossing into Canada from the Plattsburgh area followed by discussion.
ADMISSION: The Mỹ Lai Memorial Exhibit is free, though donations will be gratefully accepted to help continue the exhibit tour. Full details on the schedule and the exhibit are available at www.mylaimemorial.org.
Robin Caudell
Robin Caudell was born and raised on Maryland's Eastern Shore. She holds a BS in Journalism from the University of Maryland, College Park and a MFA in Creative Writing from Goddard College. She has worked at the Press-Republican since 1990
Follow Robin Caudell Your notification has been saved. There was a problem saving your notification.
Whenever Robin Caudell posts new content, you'll get an email delivered to your inbox with a link.
Email notifications are only sent once a day, and only if there are new matching items.
Follow Robin Caudell
Don't have an account?
Sign Up TodaySource:
Google News Vietnam
|
Netizen 24 Vietnam