Holmen teen raising funds for Vietnam War Memorial

Subscribe for 33¢ / day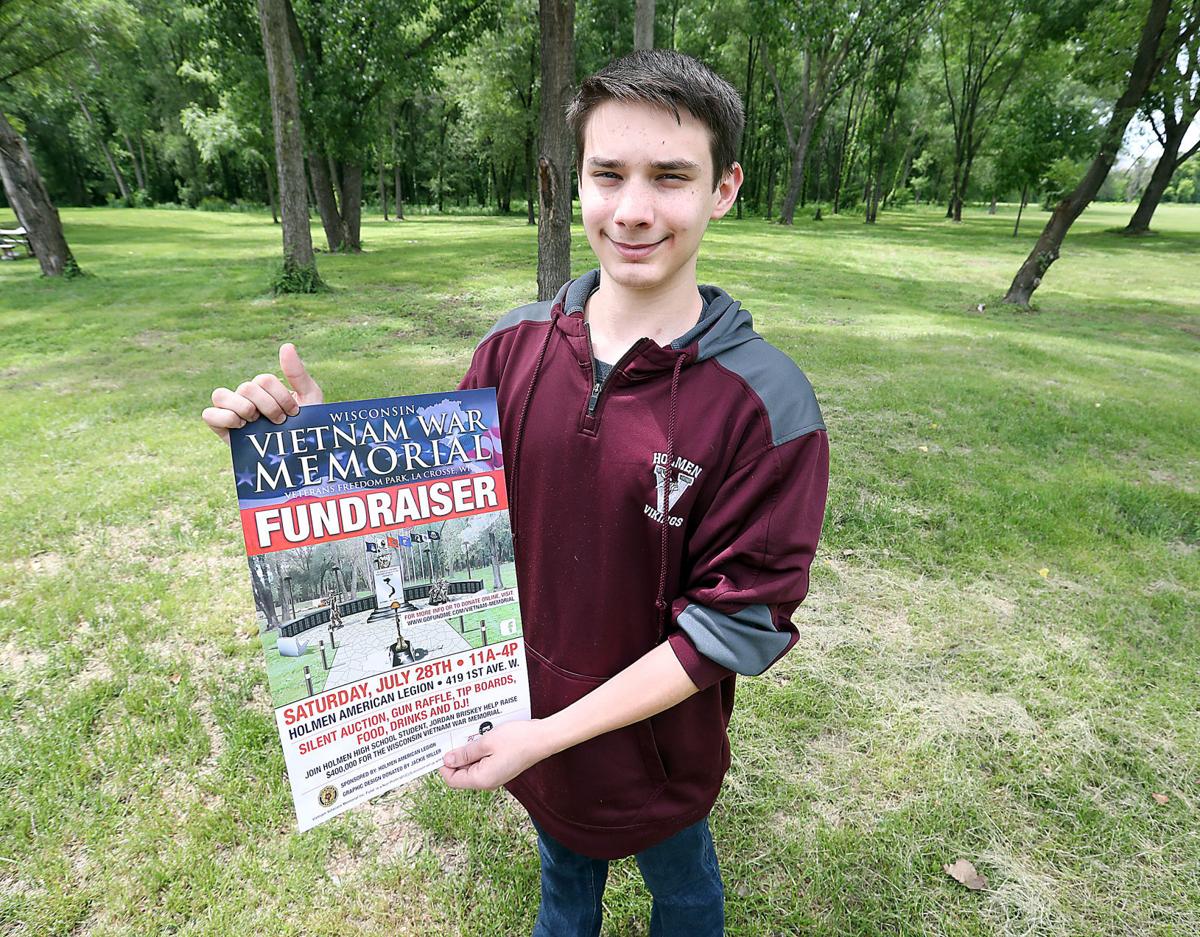 It was Memorial Day 2016, and something struck a chord in Jordan Briskey.
The Holmen teen had no personal ties to the military, and yet he felt bothered by the absence of a tribute to Vietnam veterans. Reaching out to the La Crosse Parks and Recreation department, he learned Veterans Freedom Park on Clinton Street was in development, and they were open to his idea. Encouraged by grandmother Sheryl Pederson, Briskey reached out to local veterans, visiting the Highground Veterans Memorial in Neillsville and meeting w ith its developer.
During the past two years, two monuments have been erected in Veterans Freedom Park, honoring Korean War and World War I veterans, and a tribute to World War II nurses is set to debut in July. The Vietnam Memorial is expected to be located in the green space adjacent to the nurses' memorial.
Briskey collaborated with La Crosse artist Mike Martino to put his vision on paper: an elaborate display with four bronze sculptures, to be made by Martino, and a center placard with the dates of the war and an outline of Vietnam. One sculpture will feature a pair of boots and a helmet positioned on an octagonal pedestal bearing a bronze star for each branch of the military. Another sculpture will depict a crouching soldier with his dog, one will show a soldier holding a rifle overhead, and the last a soldier with a rifle positioned on his shoulder. Surrounding the scene will be a wall etched with the names of the 1,157 Wisconsinites who died during their se rvice in Vietnam.
"The names are something that the veterans told Jordan was important," Pederson said. "That means a lot to the families."
Pederson, herself a child when the Vietnam War began, recalls the poor reception many of the soldiers met upon their return, but didn't truly understand their struggle until hearing the stories of those who served.
"It's been meaningful for me, too, talking about their experiences you can't read in a book," Pederson said.
The memorial project has an admittedly lofty goal of $400,000, and Briskey is in the early stages of fundraising, having met with contractors and La Crosse Memorials Inc. for estimates. Each of the flags flanking the memorial will be locally made. A few area businesses and organizations have expressed interest in contributing, and a fundraiser for the project will be held from 11 a.m. to 4 p.m. Saturday, July 28, at the Holmen American Legion, with a silent auction, raffle, food and mus ic.
Briskey says he spends about 12 hours a week on planning and making calls for the project, and his efforts aren't lost on Vietnam veteran Tom Hundt, an Onalaska resident and member of the memorial committee.
"It's quite an undertaking for a young man," Hundt said. "He'd done a lot of work and it's a really nice plan, a fitting way to honor the veterans who died."
Local veterans and committee members Roger McGinnis and Rodney Helgeson have also offered input and advice, and Briskey, who will be a junior next year at Holmen High School, says he has many cheering him on.
"A lot of classmates, a lot of people support me on doing this," Briskey said. "My teachers, even my principal."
Pederson is confident Briskey can bring his plans to fruition, citing the generosity of the community and Briskey's persistence. The teen hopes to have the memorial in place by the time he graduates high school in 2020.
"I'm not going to give up," Briskey said. "When it does happen, I'm (going to) feel like I accomplished something for the veterans, and other generations can see the sacrifices these men and women made. I'm very grateful for every veteran for their sacrifice so I can live in the greatest country on Earth."
To contribute to the Vietnam Memorial project, visit www.gofundme.com/vietnam-memorial. Checks can be sent to the Holmen Area Foundation, Vietnam Veterans Memorial Fund, P.O. Box 432 Holmen, WI, 54636.
Source:
Google News Vietnam
|
Netizen 24 Vietnam