'Healing' replica of Vietnam Veterans Memorial on display at Rogers State through Sunday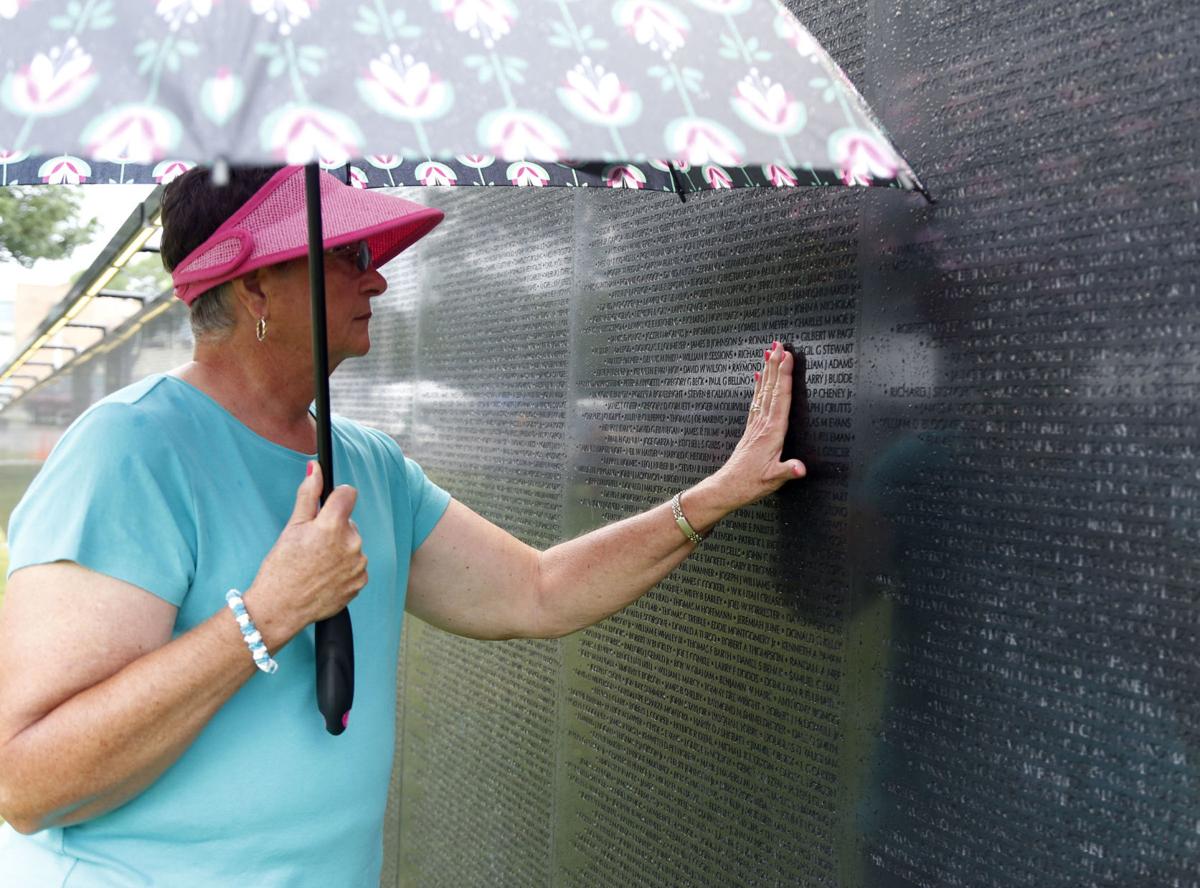 Buy Now
Judy Bone touches the name of a friend of her husband's on The Wall That Heals, a ¾-scale replica of the Vietnam Veterans Memorial that was brought to Rogers State University by the Oklahoma Military A cademy Alumni Association. STEPHEN PINGRY/Tulsa World
Buy Now
People tour The Wall That Heals, a 3/4 scale replica of The Vietnam Veterans Memorial that was brought to Rogers State University by the Oklahoma Military Academy Alumni Association in Claremore, OK, June 7, 2018. STEPHEN PINGRY/Tulsa World
Buy Now
People tour The Wall That Heals, a 3/4 scale replica of The Vietnam Veterans Memorial that was brought to Rogers State University by the Oklahoma Military Academy Alumni Association in Claremore, OK, June 7, 2018. STEPHEN PINGRY/Tulsa World
Buy Now
Union Air Force JROTC cadets fire a 21-gun salute Thursday during a ceremony at Rogers State University to honor service members who were killed in action in the Vietnam War. The Oklahoma Military Academy Alumni Association hosted the event. STEPHEN PINGRY/Tulsa World
Buy Now
Vietnam veteran Ted McDaris rings a bell in honor of a life lost in the Vietnam War at a ceremony held by the Oklahoma Military Academy Alumni Association at Rogers State University in Claremore on Thursday. STEPHEN PINGRY/Tulsa World
Related Content
Photo gallery: The Wall That Heals, a 3/4 scale replica of The Vietnam Veterans Memorial
In the decades after Marla Smith's husband died during his third tour in Vietnam, she avoided anything associated with the war.
She couldn't watch movies about it. She didn't often discuss it. When the Vietnam Veterans Memorial opened in Washington, D.C., in 1982, she knew she wouldn't be able to visit for some time.
But on Thursday, Smith, an assistant professor of nursing at Rogers State University, took a step on the path toward healing.

Tulsa World journalism makes a difference. Be part of the story. Join us. Start a digital subscription for only 99¢.
"The Wall That Heals," a ¾-scale replica of the national memorial, has been installed on the Rogers State University campus. Measuring 375 feet in length and 7½ feet high at its tallest point, the wall is sent across the country, allowing veterans, family members and friends who have struggled to face the Washington memorial "to find the strength and courage to do so within their own communities," according to the Vietnam Veterans Memorial Fund.
< p>The exhibit, which includes a mobile educational center about the war, will be on campus until Sunday afternoon.
For Smith and her son, Bradley Peixotto, approaching the replica and seeing their loved one's name was just the beginning.
"I don't know if it's a wall of healing, but it might be a wall to begin healing," Smith said.
It took more than a year of work to bring the exhibit to Claremore, according to Ken Colley, an Oklahoma Military Academy alumnus who led the planning committee. The academy was on the campus of what is now Rogers State University from 1919 to 1971.
Committee members went to Owasso a year and a half ago to see the replica while it was there. An application was submitted about a year ago, and the committee didn't learn the outcome until October.
Colley then traveled to sites such as Oklahoma City and Eastland, Texas, to observe the process of transporting, setting up and taking down the wall. A payment of $6,000 was owed once the application was accepted.
"It all came together," he said. "A year goes by so quickly nowadays."
Colley has a strong connection to the Vietnam War. Two of his close friends were killed while serving there. His brother lost both his legs and his left arm in the war. His father served in Vietnam, as well as in Korea and World War II.
Colley said the ability to reflect and honor those who died, specifically those from Rogers and Mayes counties, meant a great deal.
"It's heartwarming to celebrate those who have given it all," he said.
Various volunteers, including Boy Scouts and veterans, will stand guard over the exhibit for its duration on campus.
During the opening ceremony Thursday morning, those who lost someone in the war could ring a bell to honor their loved one. The ceremony included a 21-gun salute and the reading of names of Oklahoma Military Academy cadets who were killed in action.
Warren Hall volunteered at the exhibit, answering questions and guiding visitors to the names of their loved ones.
As a member of the Claremore Chapter of the American Veterans Motorcycle Club and a veteran of Desert Storm who also served in Afghanistan and Iraq, Hall said it was special to see Vietnam veterans who can't go to Washington interact with the replica.
"It means the world just to be able to come up here," Hall said. "It hurts, but it's good."
Staff Writer Reece Ristau
Reece joined the Tulsa World in November 2017 and covers breaking news at night and on weekends. He's a Nebraska native. Phone: 918-581-8455
Follow S taff Writer Reece Ristau Your notification has been saved. There was a problem saving your notification.
Whenever Staff Writer Reece Ristau posts new content, you'll get an email delivered to your inbox with a link.
Email notifications are only sent once a day, and only if there are new matching items.
Follow Staff Writer Reece Ristau
Don't have an account?
Sign Up TodaySource:
Google News Vietnam
|
Netizen 24 Vietnam