'Tunnel rats' of Vietnam share their story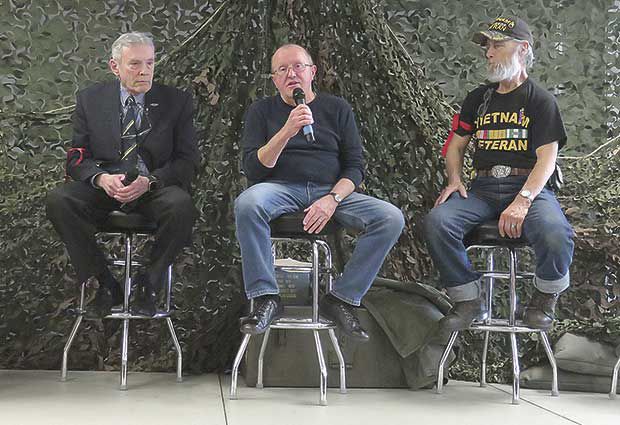 FOREST LAKE â€" Anything could be waiting in the darkness of the Viet Cong tunnelsâ€"booby traps, snakes, enemy soldiers and other perils. A few specialty soldiers known as "tunnel rats" were charged with facing this danger head-on during the Vietnam War.
Three of these "tunnel rat" veterans of Vietnam joined the Forest Lake community at a two-hour commemoration of Vietnam Veterans Day at American Legion Post 225 March 29.
Mike MacDonald, Tom Sommerhauser and Dave Guerrett spoke to a full audience about their experiences during the war, moderated by TV news and radio personality Stan Turner.
Tunnel rats were usually soldiers who were physically smallâ€"able to fit inside the tight spaces of the Viet Cong tunnels. They traveled light, carrying only a pistol, a knife and a flashlight. It was sometimes difficult to identify the vast network of hidden tunnels used by Viet Cong for stealthy navigation and as hideouts. Sometimes tiny air holes and disturbed vegetation were the only signs that there was anything suspicious happening beneath the surface. Once discovered, it was the tunnel rats' job to use these hidden corridors to their advantage. Their mission was to dispatch any enemy soldiers they found inside, or recover any useful materials left behind.
"The scariest part for me was staring at that hole, not knowing what you were going into," MacDonald said. "But once you get down there you take a few deep breaths, you collect your thoughts...then it's all business."
"You just hope the right thing happens," Sommerhauser said.
Th e tunnels were intricate and incredibly durable.
"Anybody that ever went in them was absolutely amazed," MacDonald said. "I still don't know what they did with the dirt."
In addition to enemy Viet Cong, sometimes there were a few other living things hiding in the tunnels.
"When I'd run into a rat or two, it was a comforting thing, because I knew that if the enemy found a rat, they'd eat it," MacDonald said. "So the rats were a sign that there wasn't anybody in there."
Tunnel rats wouldn't touch weapons they found in the tunnels, because they were usually booby trapped, MacDonald said. But often they would find clothes, sheets and medical supplies. Once he came across a fully assembled Singer sewing machine in the tunnels. It was a tradition to leave military patches behind in the tunnels to let the Viet Cong know that American soldiers had been there.
"My war was 100 meters in either direction," Guerrett said.
During the ceremony, Forest Lake High School senior Emily Roddel was also awarded the $500 Robert Neeser memorial scholarship for her essay about the role of the tunnel rats in the Vietnam War. Chisago Lakes High School Senior Renee Ingalls was also awarded an honorary $200 scholarship for her essay, which partially told the story of her grandparents' flight from Vietnam during the war.
The Bayport American Legion will host a community conversation about the Vietnam War at 6:30 p.m. Wednesday, April 25. Twin Cities Public Television, Washington County Library and Washington County Veterans Services invite all to a community conversation that explores the Vietnam War and its legacy from several points of view.
The Bayport American Legion is located at 263 Third St. N., Bayport. Four speakers with very different experiences will share their stories about the Vietnam War, representatives from the county's Veterans Services office will also be on hand to answer que stions and related videos and books will be highlighted. This conversation is part of TPT's ongoing Minnesota Remembers Vietnam initiative, which launched in 2017 in conjunction with the broadcast of "The Vietnam War," a documentary series by filmmakers Ken Burns and Lynn Novick. Learn more about the initiative at www.mnvietnam.org.
Jackie Bussjaeger is the editor of the Forest Lake and St. Croix Valley Lowdown, and can be reached at 651-407-1229 or lowdownnews@presspubs.com.
Source:
Google News Vietnam
|
Netizen 24 Vietnam