Vietnam arrests ex-senior officials, police amid crackdown

April 18 at 12:18 AM
HANOI, Vietnam â€" Vietnamese police have ordered the arrest of several former officials and police officers with alleged ties to a real estate developer who was arrested after being deported from Singapore.
As part of a continuing, widened crackdown on corruption, police said they are investigating a total of seven individuals. The most prominent among them include Tran Van Minh, who served as mayor of Danang, Vietnam's fourth largest city from 2006 to 2011, when he was appointed as deputy head of the Communist Party's personnel committee. He is accused of violating regulations on managing and using state property, causing losses and breaking state regulations on land management.
Former police Lieut. Gen. Phan Huu Tuan, former deputy head of the general department of the intelligence service, is accused of intentionally revealing state secrets. Vietnamese P resident Tran Dai Quang on Tuesday stripped Tuan of his "people's police" title, the Ministry of Public Security said.
Four other former or current Danang officials, including Minh's successor Van Huu Chien, were placed under house arrest while an arrest warrant was issued for another ex-police officer who worked under the Ministry of Public Security.
The suspects have alleged connections to real estate developer Phan Van Anh Vu, a former senior intelligence officer who was arrested in January after being deported from Singapore after using a false identity to enter the city state.
The 42-year-old Vu was initially investigated for revealing state secrets, but now police have also included tax evasion and abuse of power.
Police are investigating nearly three dozen properties related to Vu. The properties had previously belonged to the state and were reportedly sold to Vu at below market price.
Vietnam has stepped up its fight against corrupt ion in recent months with the state energy giant PetroVietnam and the banking sector at the center.
Scores of former or current senior executives of PetroVietnam and bankers have been put on trial. The most senior official to fall in the crackdown was Dinh La Thang, former member of the all-powerful Politburo, the main policymaking body of the ruling Communist Party.
Thang was sentenced to 31 years in prison for mismanagement in two separate trials for his role as chairman of PetroVietnam. He was the first former Politburo member to be imprisoned in decades.
Copyright 2018 The Associated Press. All rights reserved. This material may not be published, broadcast, rewritten or redistributed.
Source:
Google News Vietnam
|
Netizen 24 Vietnam
Syria bombing has troubling echoes of Vietnam's Operation Rolling Thunder


The latest bombing campaign in Syria bears a remarkable and worrying resemblance to one of history's most infamous and flawed military interventions. Operation Rolling Thunder was the aerial assault on North Vietnam which lasted from 1965 to 1968. It was a massive bombardment, hugely destructive and, ultimately, ineffectual.
Because for all the staggering tonnage of bombs dropped (643,000 tons), the ruthless communist regime in North Vietnam â€" careless of the lives of its people and secure in its support from the USSR and China â€" was neither deterred nor materially prevented from prosecuting its war against America's doomed client state in South Vietnam.
One of the reasons for the aerial campaign's failure was that it was planned around a wholly flawed strategy, based upon an utter miscalculation of how the targeted regime would respond to the bombing. Tha t situation now appears to be repeating itself in Syria.
Read more: Syria: who's involved, and what do they want?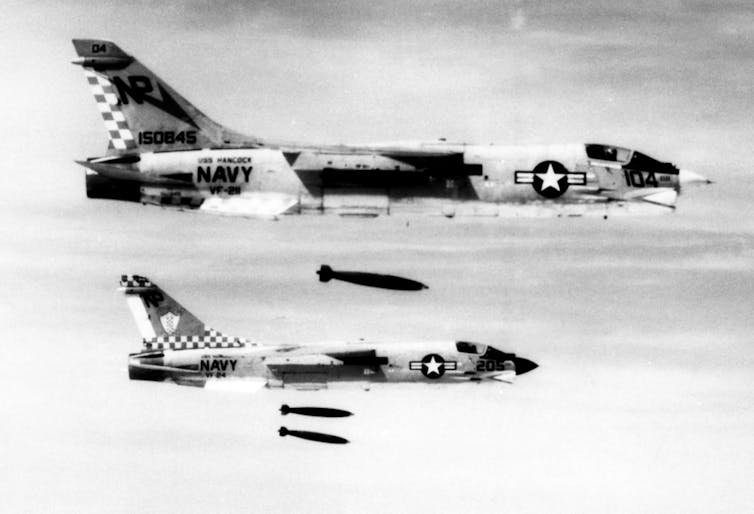 'Bomb them back into the stone age'
It is often assumed that the US pursued an unrestricted bombing campaign against North Vietnam, a view captured most graphically in General Curtis LeMay's often quoted threat to "bomb them back into the stone age". It did not. The policy underpinning the bombing campaign was devised by US Secretary of Defence Robert McNamara and President Lyndon Baines Johnson â€" and it was based on "graduated es calation".
North Vietnam would be encouraged to enter negotiations by a decrease in the intensity and frequency of air raids and punished for any aggressive action by a commensurate increase. It was a policy that, 30 years later, MacNamara himself would describe as "wrong, terribly wrong".
In Hanoi, the waxing and waning of the bombing was perceived not as strength but as weakness, much as the periodic flinging of cruise missiles at a restricted number of targets in Syria, interspersed with long periods of inaction, probably seems to Bashar al-Assad.
Fear of a superpower confrontation
Furthermore, the bombing itself, besides not delivering the intended political dividends, had little material impact on North Vietnam's capacity to wage war. Johnson, with good reason , was terrified that the conflict might escalate into a superpower confrontation because of the Chinese and Soviet presence on the ground. For much of the war, therefore, no attacks could be made on the harbour at Haiphong, for fear of hitting Soviet ships. So, these could carry on supplying Hanoi with war materials essentially undisturbed.
China was even more of a concern. A deep buffer zone along the North Vietnamese border with China was, for most of the conflict, off-limits to air attack. And, by 1967, some 170,000 Chinese troops were serving in North Vietnam. Some were killed in US air raids but fear of causing significant casualties to Chinese forces caused further restrictions to the bombing campaign.
For two months in 1965, US aircraft were not allowed to attack a formidable belt of surface-to-air missile launch sites that were under construction for fear they might trigger a Chinese or Soviet military response. These missiles would eventually shoot down the fighter of Senator John McCain and hundreds of other US servicemen.
What is the strategy?
The presence of around 4,000 Russian troops in Syria today is exercising a similar influence on the conduct of air strikes.
There are other depressing similarities, too. What, strategically, is the purpose of the air strikes against Syria? As in Vietnam, one intention seems to be to change the behaviour of a brutal and repressive regime. The purpose of air strikes, we have been told by the US president "is to establish a strong deterrent against the production, spread, and use of chemical weapons". However, given that his last missile strikes against Assad seem to have failed to have any such deterrent effect, why assume this one will?
Another rationale is UK Prime Minister Theresa May's extraordinary claim that "hitting these targets with the force that we have deployed will significantly degrade the Syrian regime's ability to research, develop an d deploy chemical weapons".
The very notion that a missile strike by four of the RAF's elderly Tornados would have a significant effect on Syria's capacity to wage chemical warfare is arrant nonsense. And if more chemical weapons attacks do now occur in Syria, where will our policymakers go? Will they escalate the pressure â€" firing more missiles, expending more blood and treasure as America did in Vietnam, to no purpose?
The concern here is not the legality of the air strikes on Syria, a valid question though that is. Rather, now that the decision has been taken to engage in military action, the citizens of the UK, the US and France surely have a right to know why, exactly, it is being done? What is our strategy here and how should we gauge if it has been achieved?
The fear is that world leaders do not have a very convincing answer. Perhaps they have no answer at all. The echoes of Rolling Thunder are there to be heard by those who will listen. Sad ly, those in charge so far seem to be deaf to them.
Read more: Syria's latest chemical massacre demands a global response
Source:
Google News Vietnam
|
Netizen 24 Vietnam
The Latest Way to Enjoy Pho in Vietnam: As a Cocktail


Pho is something of a national dish in Vietnam. The noodle soup, typically topped with beef or chicken, can be enjoyed for breakfast, lunch, or dinner. There's even a version of it for happy hour, as Lonely Planet reports.
The pho cocktail, served at Nê Cocktail Bar in Hanoi, contains many of the herbs and spices found in pho, like cinnamon, star anise, cilantro, and cardamom. Without the broth or meat, its taste is refreshingly sweet.
The drink's uniqueness makes it a popular choice among patrons, as does the dramatic way it's prepared. The bartender pours gin and triple sec through the top of a tall metal apparatus that contains three saucers holding the spices. He then lights the saucers on fire with a hand torch as the liquid flows through, allowing the flavors to infuse with the alcohol as the drink is filtered into a pitcher below.
Pham Tien Tiep, who was named Vietnam's best bartender at the Diageo Reserve World Class cocktail competition in 2012, created the cocktail six years ago while working at the famous French Colonial-era hotel the Sofitel Legend Metropole Hanoi, according to AFP. He has since brought his signature drink to several of the stylish bars he owns in Vietnam's capital, including Nê Cocktail Bar.
Initially, he set out to create a drink that would represent Vietnam's culture and history. "I created the pho cocktail at the Metropole Hotel, just above the war bunkers where the American musician Joan Baez sang to the staff and guests in December 1972 as bombs fell on the city," Tiep told Word Vietnam magazine. "The alcohol in the cocktail is lit on fire to represent the bombs, while spices, such as chili and cinnamon, reflect the warmness of her voice."
Tiep has a reputation for infusing his drinks with unusual local ingredients. He has also created a cocktail that features fish sauce, a popular condiment in Vietnam, and another that contains capsicum, chili, and lemongrass in an ode to the bo luc lac (shaking beef) dish, according to CNN.
[h/t Lonely Planet]
Source:
Google News Vietnam
|
Netizen 24 Vietnam